You Can Design Australia
The Brief:
Community design project You Can Design Australia had a wonderful idea to help unemployed engineers, planners and architects find work, and also to help recent design graduates struggling to gain vital industry experience. They asked if we could help in creating a website to promote and highlight their free one day design 'charrette'.
The Response:
Understanding the importance of training and appreciating the immense value of having access to design professionals able and willing to mentor others, we were happy to offer our services pro bono to this community and volunteer-led project. We enjoyed putting together a simple, easily navigable site based around a hand-drawn / sketched theme. Behind the scenes, we implemented a powerful content management system, and naturally we made the site responsive so that mobile and tablet users weren't left out.
Home page: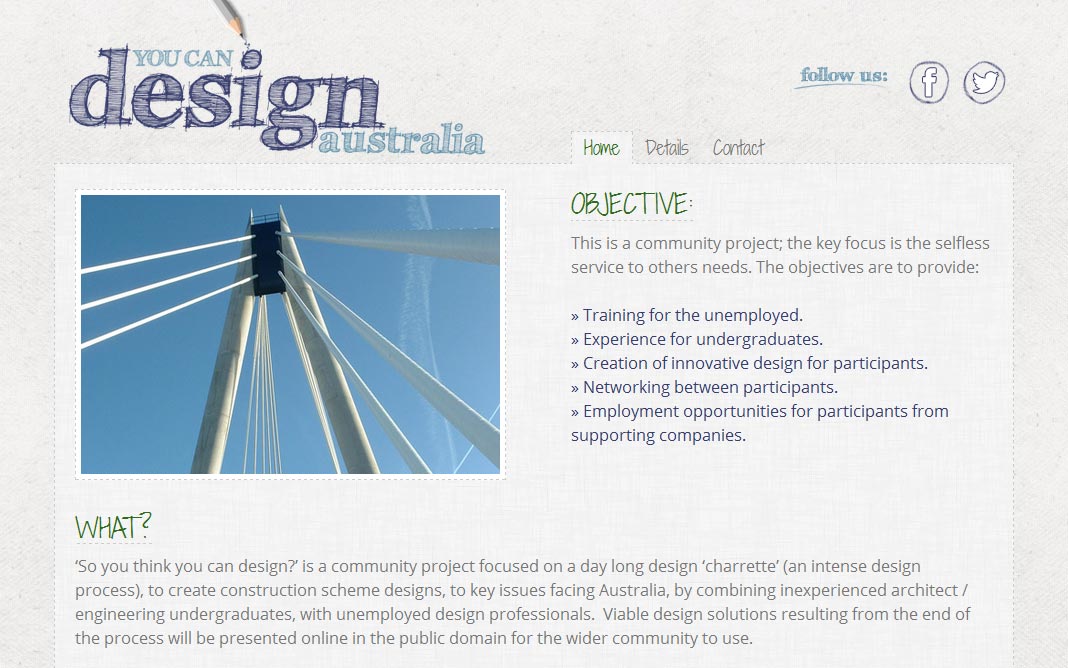 Footer:

We also created fliers and poster artwork for 'You Can Design Australia' so that the design charrette could also be promoted in the local community and also within educational establishments. Corporate sponsors were vital in helping to fund the project, and it was important that these be included within the site as thanks for their sponsorship and support. We included social media feeds and buttons knowing that these would be useful tools in additionally promoting the event.
Contact Page: